Product Review – Yves Veggie Cuisine Mexican Veggie Ground Round
The people at Yves Veggie Cuisine generously provided me with product to try and write about for this blog.
I received a big bag of Yves product in my office the other day, and I was pretty excited to give it a try. I used to eat Yves veggie dogs a long while back, and I've bought their meatless products for my daughter when she decided, at age 6, to be a vegetarian (she has abandoned that idea as of now).
I always feel like my family eats too much meat, so it's good to try a product that can keep it veggie for a few nights in our house. My concern with meatless products is that they seem to contain a lot of extra ingredients and they appear to be pretty processed. So when I got the Yves items I really wanted to give them a good once-over before I even cooked with them.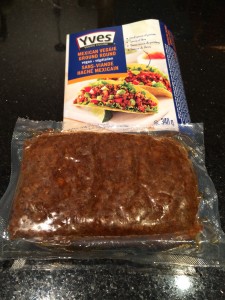 First up, the Mexican Veggie Ground Round, per 1/3 cup:
90 calories
9 grams of protein
290 mg sodium
1g sugar
3g fiber
It also contains 35% of the DRI for B12 and 20% for zinc, both of which are not readily available from food in the vegan diet.
The primary source of protein is soy, and while the product does contain some cane syrup, guar gum, and tapioca starch, these are probably needed for texture. Both the canola oil and the soy protein in the product are non-GMO, which is a plus for a lot of people. The nutritionals were definitely acceptable – not too much sodium, or sugar, fairly high in protein and low in calories.
I dreamed all day long about how I wanted to use this ground round, and by the end of the day I decided that I really wanted a burger. I wanted to see if it would hold its shape in a frying pan, so I went ahead and molded a big patty from it. I swiped a taste while I was forming the burger – the product can be eaten straight from the package – and it tasted amazing. The texture was a bit sticky and not really like meat, but not in a bad way. I'm not sure anyone would expect or want a vegan product to mimic meat in either texture or taste.
I didn't have any onions and frankly, having a 530am airport pickup the next morning and not having packed yet, I didn't have the time to run out and buy one to help flavor the dish. The ground round went into the pan completely naked with just some olive oil.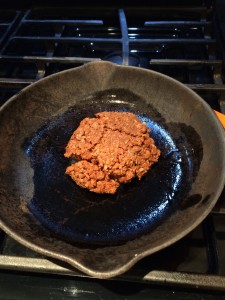 As you can see, as soon as the burger hit the hot pan, it began to soften and break up. Fine, I thought, it will be a Mexican loose meat sandwich! Flexibility – very important!
The ground round ended up crumbled in the pan and once it was heated through – about 5 minutes tops – I plated it on a thin whole wheat bun, added avocado, tomato, and chipotle aioli, and done.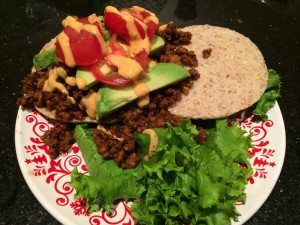 My hockey-playing beer-drinking meat and potatoes husband wolfed the entire thing down in less than 5 minutes, proclaiming…'that was good….what did I just eat?'
Success. It was totally delicious! I stood at the stove and scooped up the remainder of the ground round from the frying pan with some tortilla chips. It was that good. Vegan nachos – this would be perfect.
I would definitely, without question, buy and recommend this product.
No onions needed.
Next: Yves Garden Veggie Crumble!