Roasted Peach and Ginger Ice Cream Tart – And My California Cling Peach Tour!
Disclosure: I was a guest of the California Cling Peach Board on their peach orchard tour. I have not received any monetary or product compensation to write this blog (although I ate a LOT of peaches in the orchards, so I think I owe THEM money), and as always, my opinions are mine alone. I took all of the photos you see in this blog post. 
What's your first thought when I say 'canned peaches'?
Is it of the ubiquitous hospital meal fruit cup? Sticky sweet peach halves in heavy syrup? A non-nutritious alternative to fresh summer peaches?
Stop! I'm here to change your mind. I know you trust me and my culinary sensibilities, so keep reading.
This past summer, I had the good fortune to be invited on a tour of some California Cling peach orchards. I get unreasonably excited on these tours, because I love seeing how our food is grown and harvested, and meeting the people who grow and harvest it is always really really special. It's not something that a lot of people get to do, so I consider being on these tours a huge privilege.
In true Abby fashion, I ate WAY too many peaches, much to the annoyance of my tour companions (eeek). More importantly, I got to learn a lot about California Cling peaches. Specifically, how they're grown, harvested, and canned. I toured a canning facility (Whew! Boiling hot in there!), spoke to farmers, picked peaches, and was able to cast a critical eye on all aspects of canned California Cling peaches. I can tell you though that I was thoroughly impressed – not only by what I tasted, but also by what I saw and learned on that tour.
You know by reading my other blogs – especially my diet reviews – that when something isn't right, I call it out. But I can't say anything bad about what I saw in California. Plus, I've been eating these peaches – and feeding them to my kids – forever..so it wasn't that hard a sell for me.
We're all conditioned to think that processed food = bad for us. But as I have tried to impress upon you all for a few years now, this isn't true. Now, the same can't necessarily be said about 'ultra processed' food, but canned peaches are peaches in their natural form that have simply been cooked quickly and packed. They're minimally processed and a great alternative to fresh peaches – especially during the colder season.
Some of the most interesting facts I learned about canned California Cling Peaches are:
Check out this cool infographic for more Cling peach information!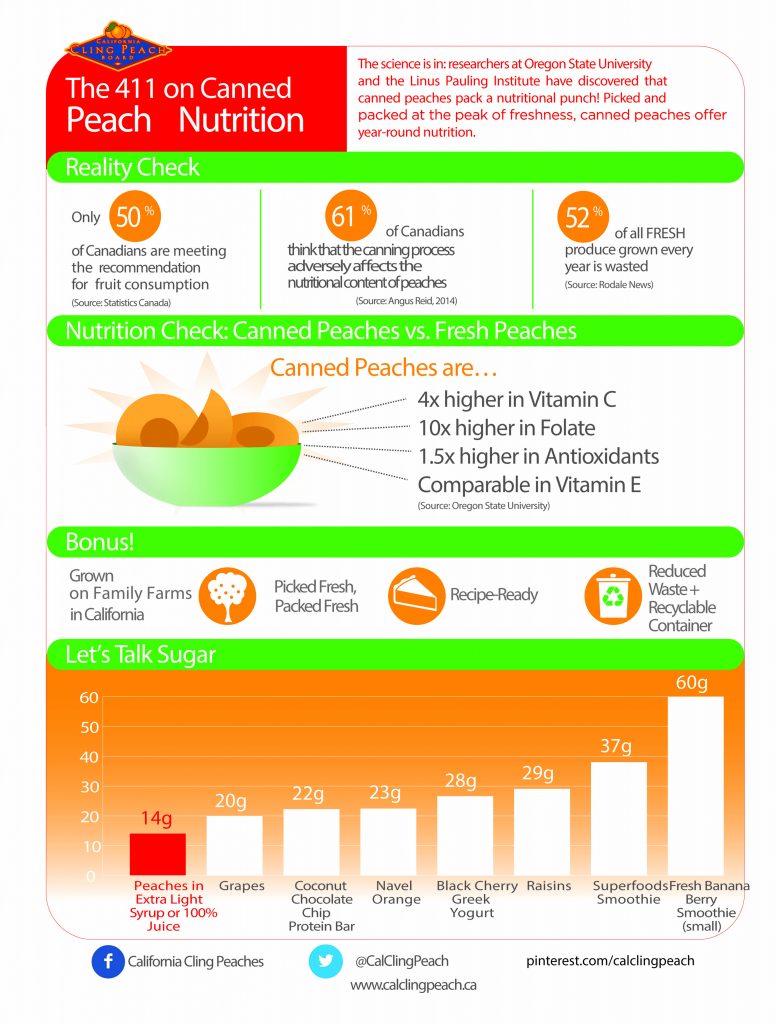 Okay, enough school for today. How about a recipe?
I developed this scrumptious roasted Cling peach and ginger ice cream tart with a chocolate gingersnap crust as a thank-you to the California Cling Peach Board. Make it for New Year's Eve, or pretty much any time of year!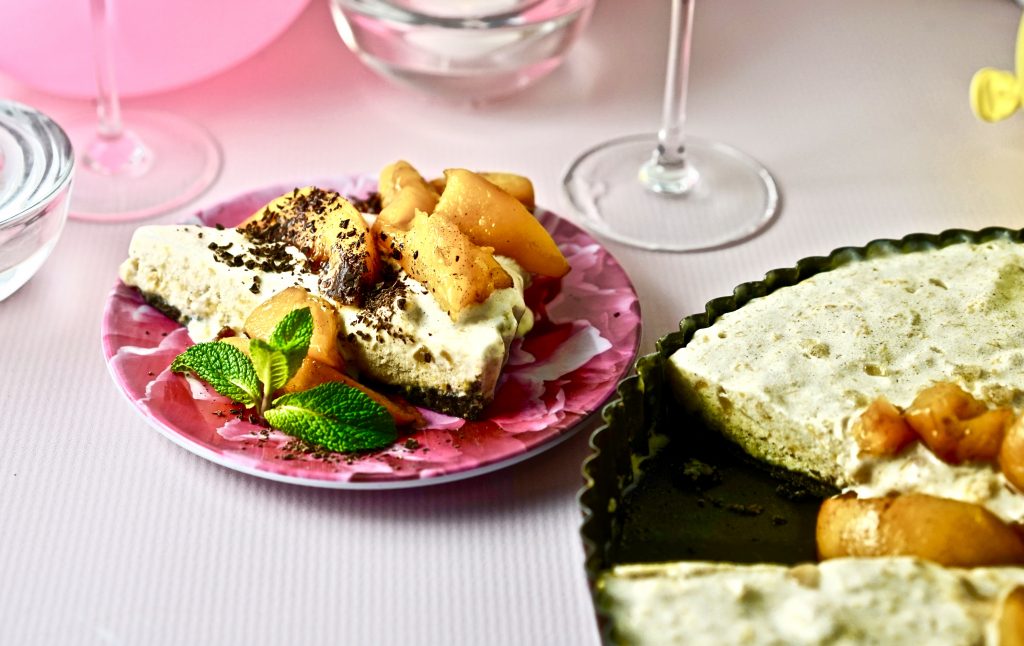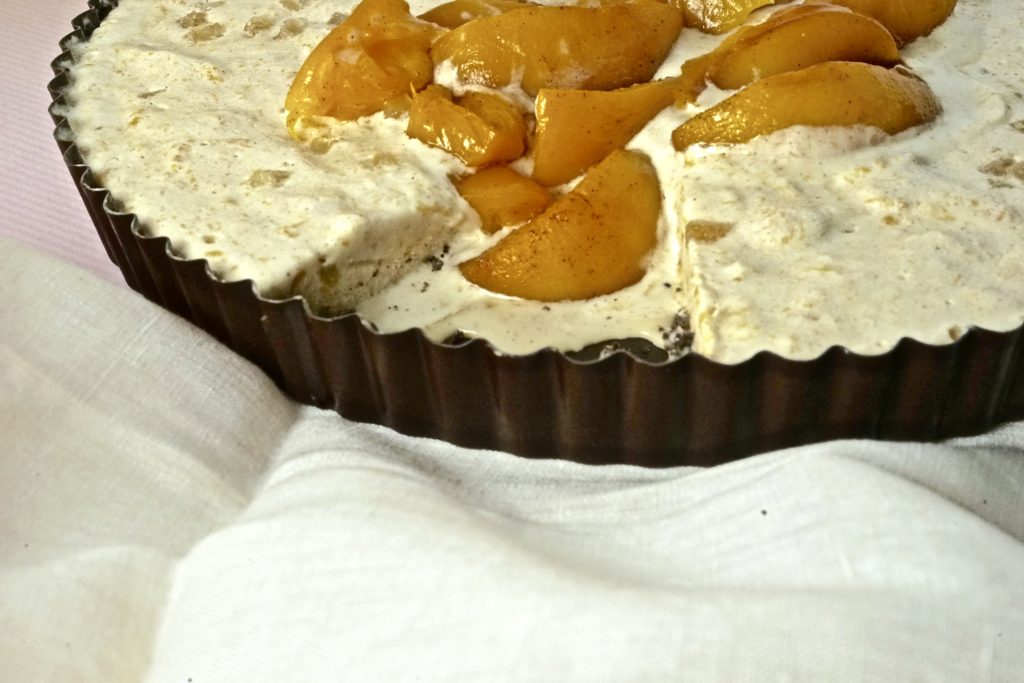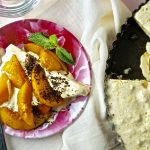 Roasted Cling Peach and Ginger Ice Cream Tart
Sweet roasted cling peaches and candied ginger make this ice cream tart the perfect dessert for any time of year!
Ingredients
1.5

cups

ginger snaps

1.5

cups

chocolate wafer cookies

4

T

unsalted butter

melted

2

cups

whipping cream

2

cups

whole milk

¼

cup

white sugar

¼

cup

light brown sugar

¼

cup

chopped candied ginger

1

T

vanilla extract

1

t

ground cinnamon + 1/2t for sprinkling the peaches

½

t

ground ginger

4-398

ml

cans peach slices in juice

drained

¼

cup

brown sugar
Instructions
Preheat oven to 350F.

On a parchment or foil-lined baking sheet, arrange the peach slices in a single layer.

Sprinkle with ¼ cup brown sugar and ½ t cinnamon and bake at 350F until soft and browned, around 1 hour. Remove and cool thoroughly. Keep the oven on to 350F.

Using a food processor, grind the gingersnaps and chocolate wafer cookies until they resemble coarse sand. Transfer to a bowl and add the melted butter. Toss with a fork until the crumbs are all coated with the butter.

Lightly spray a 9" pie plate or tart pan with cooking spray, concentrating on the sides, and press the crust into the bottom of the pan. Place into the oven at 350F for 7-8 minutes. Remove and cool.

Combine the cream, milk, brown and white sugar, vanilla, cinnamon, ginger, and ¾ of the cooled peaches in a blender. Blend until mostly smooth. Transfer to an ice cream maker and process according to the ice cream maker's instructions. Once it's done, fold in the candied ginger. The ice cream should be soft.

Scoop the ice cream into the crust and freeze until solid

Remove the pie from the freezer around 20 minutes before you're ready to eat it, to let it soften enough to get it out of the dish. Garnish with candied ginger, chocolate shavings, and the remaining peaches (you can warm these up for serving, yum yum)