Muffin Tin Meal: Smoked Salmon Cream Cheese Eggs in Baskets
Disclosure: I partnered with Arla Canada on this post, but as usual, all opinions remain my own. Anyhow, our house is full of Arla cheese, so this partnership was a match made in heaven.
I get a lot of clients who come to me for advice on lactose-free eating. Up until recently, it was tough to find a lactose-free cream cheese that I could recommend. When the people from Arla came to me for this collaboration, I finally got to try their Lactose-Free Cream Cheese, and can honestly say that it's spectacular.
Made with only 5 simple ingredients, Arla Lactose-Free Cream Cheese is perfect for those of you who can't tolerate the lactose in dairy, but still want to enjoy delish cream cheese. My entire family loved its light, clean taste and rich texture.
Those of you who don't have a problem with lactose can also savour this cream cheese or, choose Arla's Organic Cream Cheese!
My personal favorite way to eat cream cheese is with smoked salmon, so I wanted to develop a recipe involving those ingredients. Being a busy mom, I love make-ahead recipes, because I don't have a lot of time in the mornings while everyone is getting ready for school and work. I developed this muffin tin eggs in baskets recipe as a family-friendly, nourishing breakfast that can be eaten on-the-go and made in advance. What else do you need? Oh yeah – they're scrumptious, too! Done.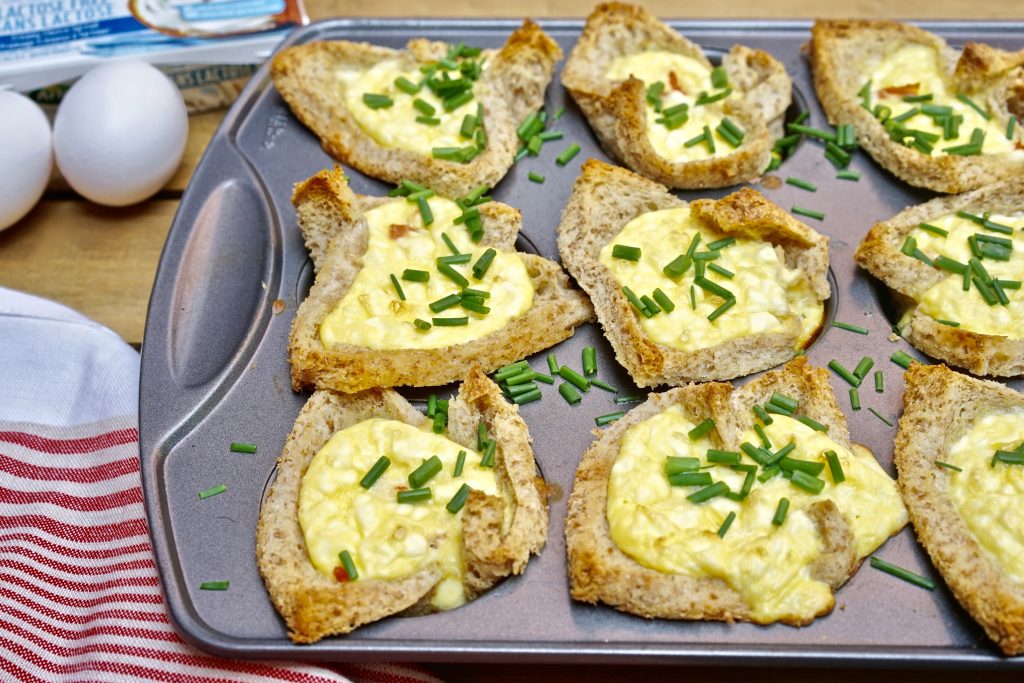 These eggs in baskets can also be eaten as a snack: the protein from the egg and salmon and the carbs from the bread are the perfect filling combination to hold you over until your next meal. I'd say two baskets would be a meal-sized portion, one basket for a snack.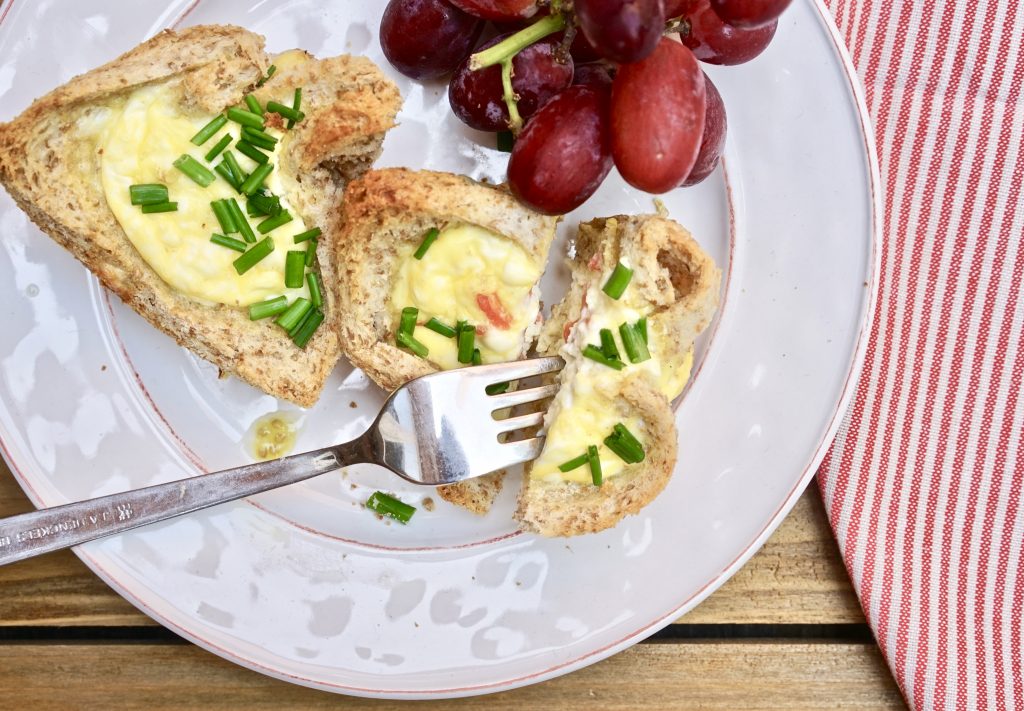 I was going to make this recipe using hash browns for the baskets, but I didn't think you'd want to mess with grating potato. Using bread – white, brown, sourdough, or whichever one you prefer – is so much easier. It's also easier to customize to your taste.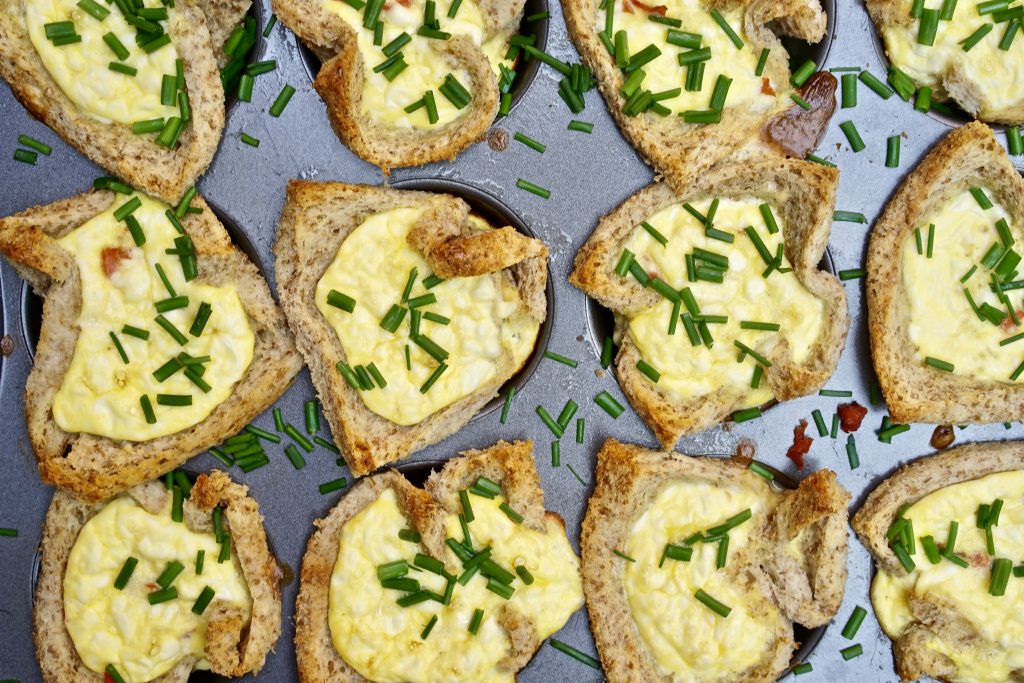 You can buzz the egg and cream cheese mixture in a blender to smooth it out, but I didn't, for a good reason: getting rid of the little pieces of cream cheese in the eggs would mean that the finished product wouldn't have the same oozy texture that I was going for. Those tiny pockets of cream cheese that remain if you simply whisk the egg mixture are like little bursts of extreme goodness. But, you do you: if you want to incorporate the cream cheese thoroughly into the eggs, go right ahead.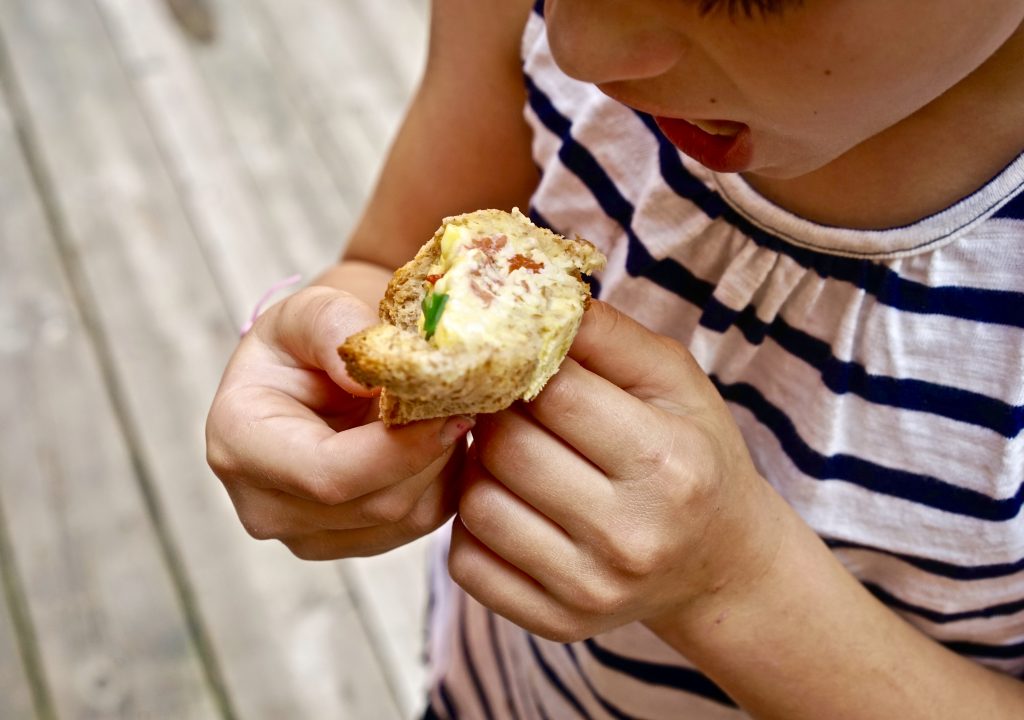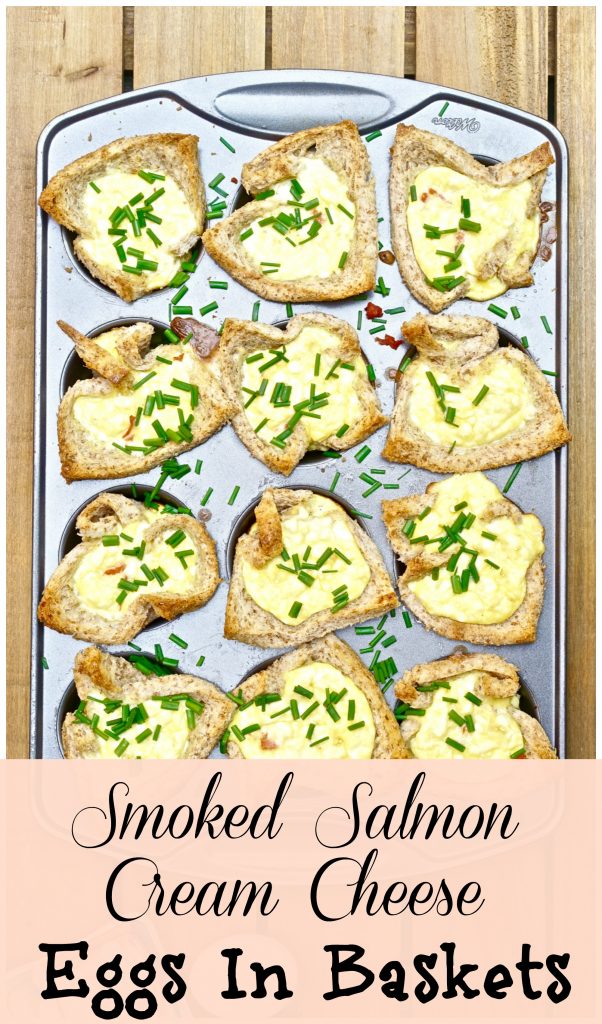 You know what would also be great on these? Everything spice. Looks like I'm going to have to make them again just to try that out! Stay tuned.
ALSO: Enter Arla's sweepstakes to win a fabulous prize pack! Click here for more details.
Muffin Tin Smoked Salmon Cream Cheese Eggs in Baskets
These make-ahead creamy eggs in baskets are the perfect breakfast or snack!
Ingredients
12

slices

square bread

2

tablespoons

softened butter

8

eggs

200

g

package of Arla Lactose-Free Cream Cheese

softened

1/3

cup

milk

100

g

smoked salmon

chopped

Salt to taste

Chives to garnish
Instructions
Preheat oven to 350F.

Grease a 12-cup muffin tin.

Cut the crusts off the bread as close as possible, and using a rolling pin or the heel of your hand, flatten each slice of bread to at least half its regular thickness.

Butter both sides of each slice and arrange into the muffin tin cups.

Bake the bread cups in the muffin tin for 10 minutes.

Remove from the oven.

While the bread cups are baking, crack the eggs into a bowl and add the milk and cream cheese. Scramble the mixture until well incorporated. The cream cheese will be in little pieces, which is fine.

Divide the smoked salmon among the bread cups.

Pour the egg and cheese mixture into the cups on top of the smoked salmon.

Bake for 20 minutes at 350F.

Garnish with chives.

Serve warm.
Follow Arla on Facebook and Instagram!