(Vegan) Black Bean, Corn, Medjool Date, and Jicama Tacos with Avocado Lime Crema
I promise that this blog isn't going completely vegan! Not that anything would be wrong with that!
This is my third vegan recipe in a row, and while I continue to eat animal products, I am also fascinated right now with vegan food. It's one of the last frontiers for me because I don't have a lot of experience with vegan recipes; it's also becoming more popular amongst my clients. I have a lot of vegan clients and they request vegan recipes – so instead of sending them to other peoples' sites, why not create my own dishes? Lastly, I really enjoy eating vegan meals, so why not expand my repertoire and pass the learnings on to you?
I want to give a big shout out to Lisa from the VietVegan, a fellow Toronto food blogger who taught me some important basics about vegan cooking and whose vegan food blog is amazing. Check it out here.
These tacos appear to be labor intensive because they have a few different parts them (as tacos tend to do), but a lot of them can be made in advance – I made the jicama and the beans last night for example (and I almost ate the entire bowl of jicama as it was soaking in lime juice, because it was so delicious. That's totally my new snack). You can make the corn and date mixture the day before too – and the crema takes about 5 minutes to make. Don't be afraid of this recipe, because it's really really tasty.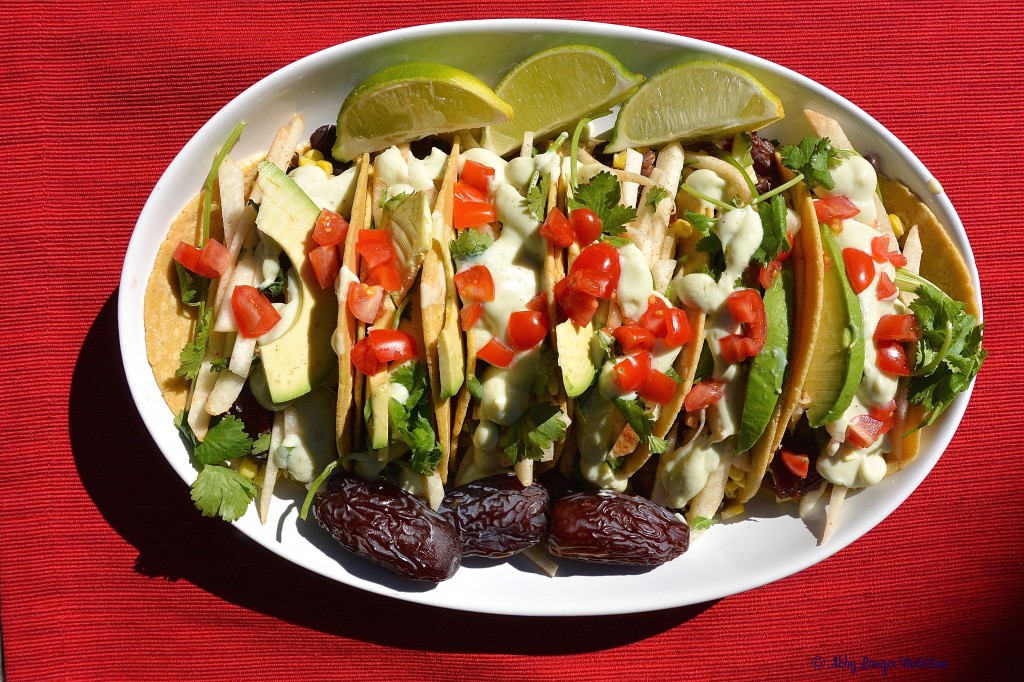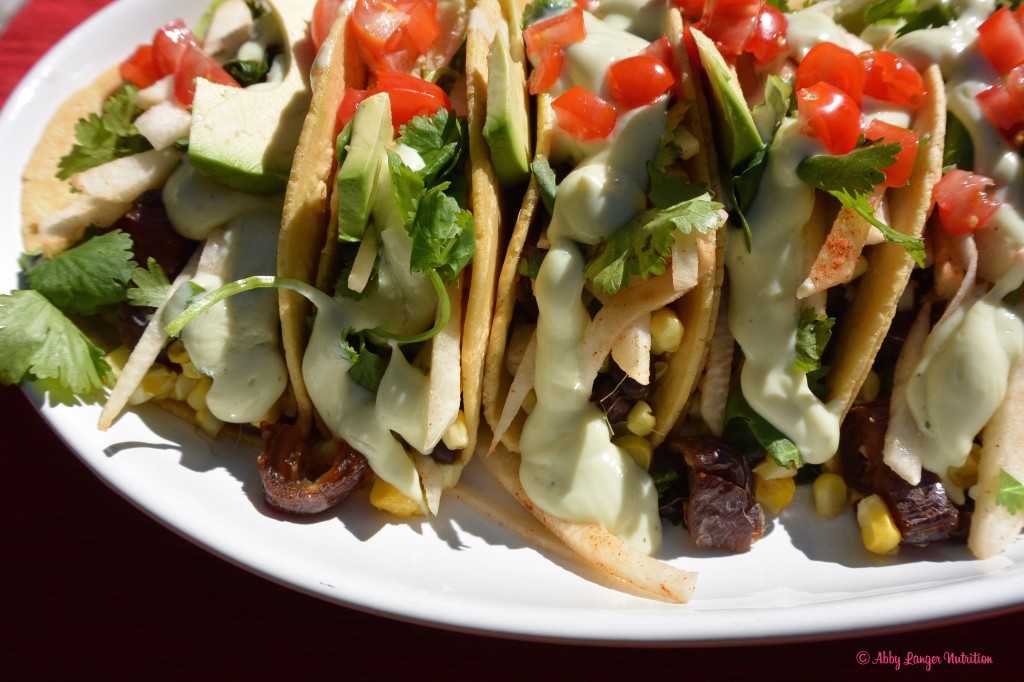 If you use gluten free tortillas, this recipe is gluten free, too.
Makes 8 tacos (count on 2 per person), plus a bit of leftover ingredients which can be multipurposed.
8 small corn tortillas
The Beans:
1 540ml (19oz) can of black beans, drained and rinsed
1 clove of garlic, crushed
¼ small yellow onion, diced
1T olive oil
1t ground cumin
1/4t smoked paprika – I used the hot variety, but sweet is fine too
The Jicama:
2 medium jicamas, matchsticked (about 3 cups)
1 cup chopped fresh cilantro
Juice of 1 large lime – about 2-3T
1-2t chili salt seasoning, or 1t chili powder with 1/4t salt (or more to taste)
The Corn:
3 cobs sweet corn (about 1.5 cups, you can also use frozen kernels)
8-10 large Medjool dates
1T diced jalapeno or more to taste 
The Crema:
300g package of silken tofu
2+ T lime juice
¼ avocado
1/8t salt
1 pinch chili powder
1 large garlic clove, crushed
Cilantro, chopped tomato, lime, and Medjool dates to garnish
Mexican hot sauce if desired
Make the jicama:
Combine the matchsticked jicama, cilantro, chili lime seasoning, and lime juice and toss to mix well. Refrigerate for at least for 30 minutes and up to overnight.
Make the corn:
Cut the kernels off the corn cobs and spread on a parchment-lined baking sheet.
Bake at 350F until fragrant and slightly browned.
Remove from the oven and toss in the dates and jalapeno. Stir to mix and set aside.
Make the beans:
In a small pot, sautee the onions and garlic until fragrant, then add the beans and seasonings.
Simmer for 5-10 minutes and then remove from heat and set aside.
Make the crema:
In a small food processor, blend all the crema ingredients until smooth.
Assemble the tacos however you want – I layered the tortilla, beans, then corn mixture, then jicama, then garnishes and crema. Mexican hot sauce is amazing on these. Enjoy!