Vegan Green Falafel with Tahini Sauce
Middle Eastern food is one of my favorites (second only to Mexican). Kebabs, hummus, tahini in EVERYTHING, and of course, falafel. Falafel are basically deep fried chickpea balls, and they're magical. If you're looking for an easy falafel recipe or even just more plant-based meal ideas, keep reading!
Never mind that I once got food poisoning from a falafel in Israel (nightmare), I'm still wild about those crunchy, crispy balls of chickpeas, sauced with tahini and stuffed into a pita with the classic tomato and cucumber salad and pickled turnip.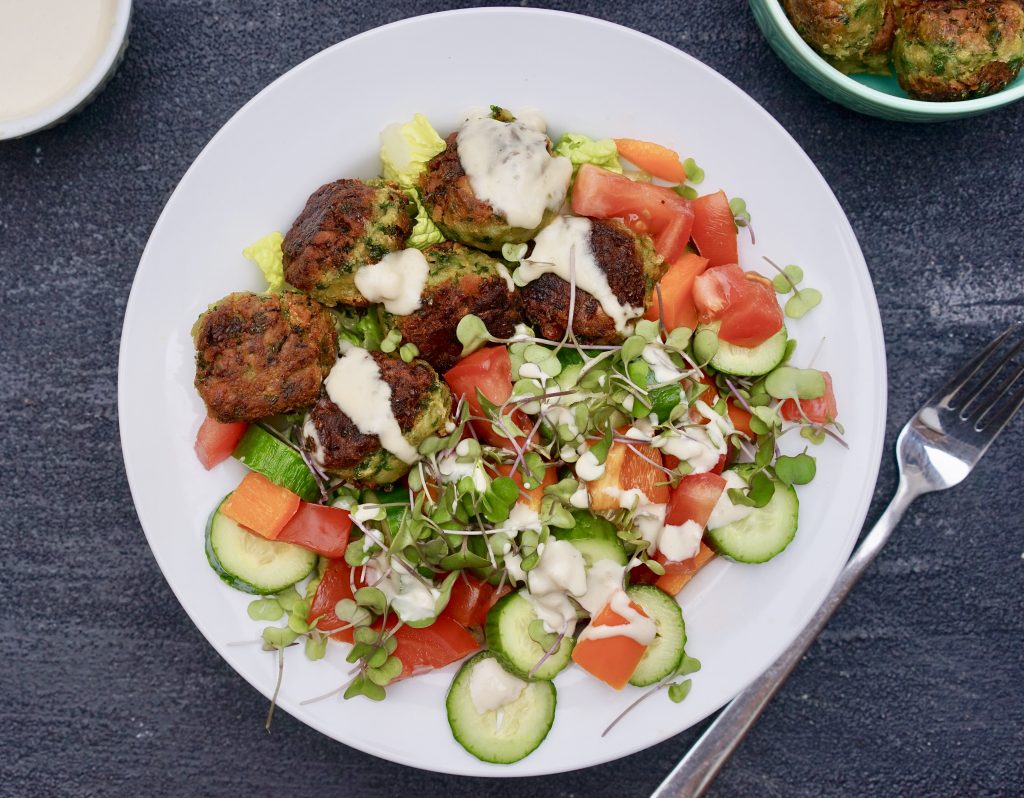 Not being one to 'healthify' most of my recipes, I am posting this one using a shallow-fry method. Falafel are usually deep-fried (too messy), and sometimes people bake them (NO). If you have an air fryer, this recipe would probably be incredible made in it, so definitely try it. FYI I did a baked batch of these, and they turned out dry and weak. Don't bother.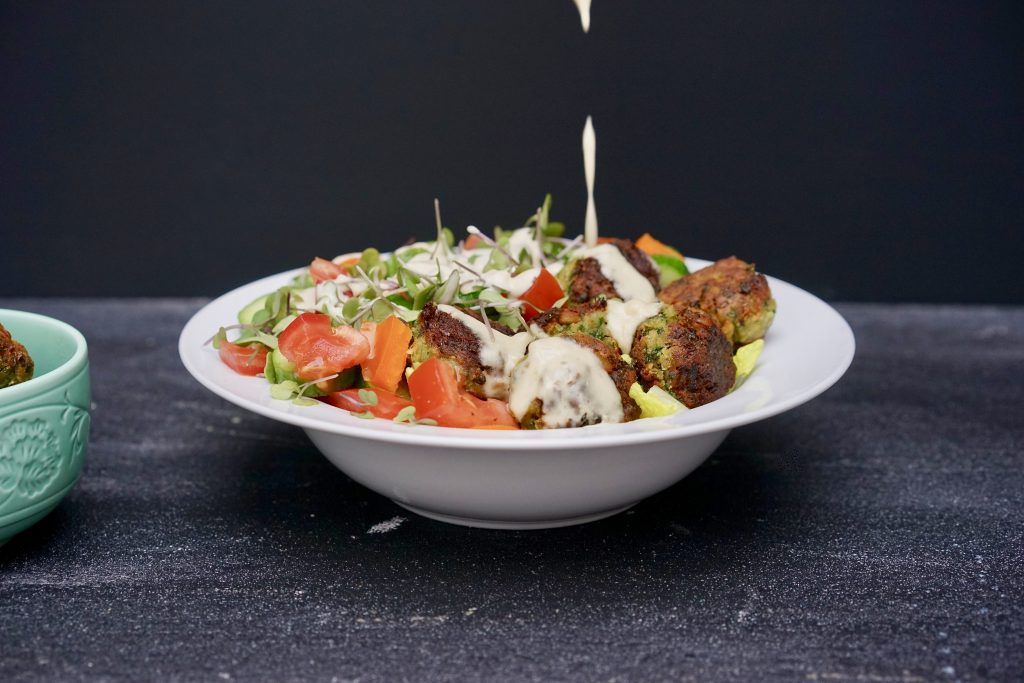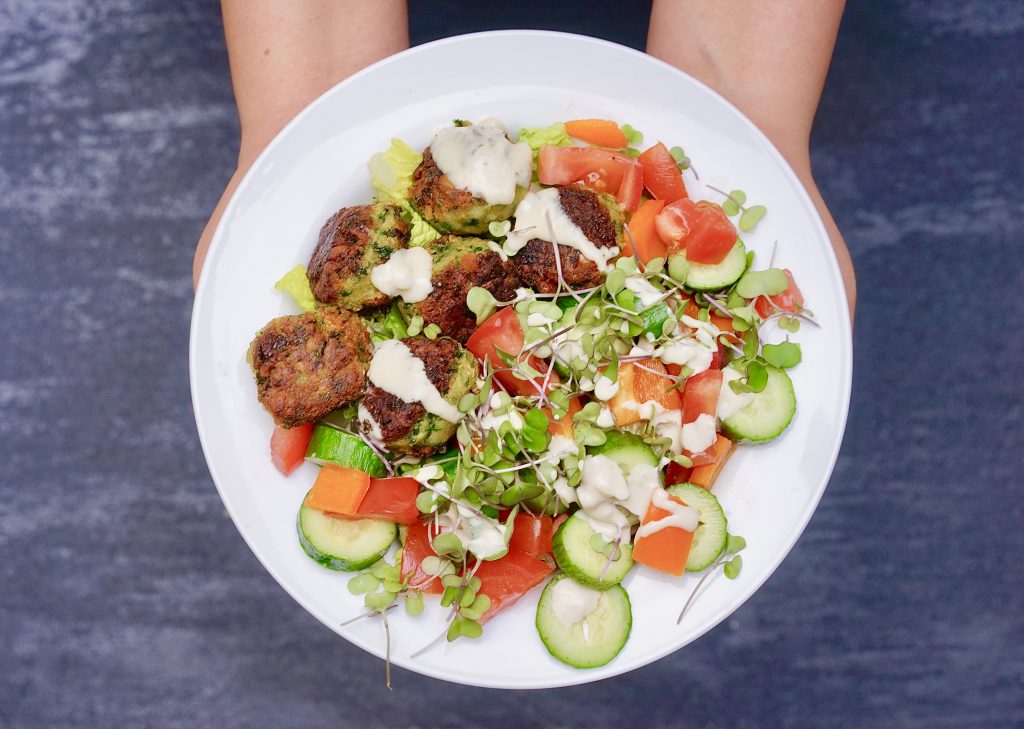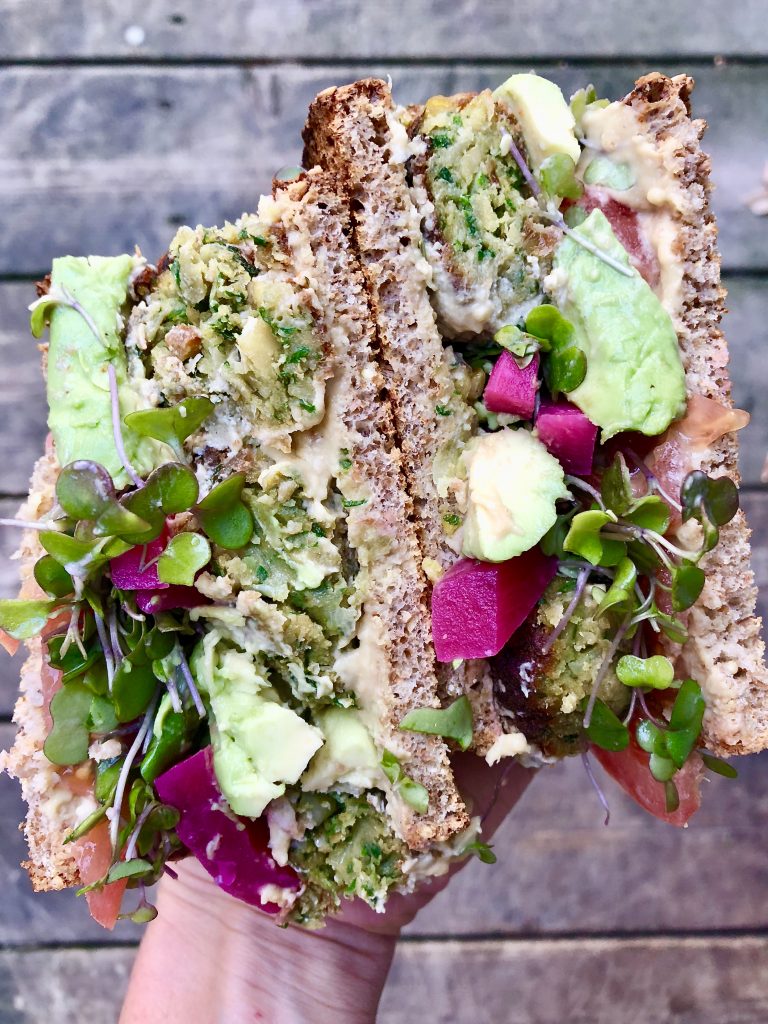 In the photo above, you can see how I stuffed this sandwich with the falafel (see how they're green?), pickled turnip (bought a jar at my local supermarket), hummus, avocado, tomato, and sprouts. DEEEEEEEELISH! Messy, but scrumptious. Hey – isn't every great sandwich messy?
I made these falafel four times to make sure they were perfect for you, and I think you're going to love them. While falafel are normally the color of chickpeas, I added a bunch of herbs to make these a bit more veggie-packed, and the result was a pretty color and delicious taste. Score!
The recipe makes 18 falafel balls, plus tahini sauce.
Green Falafel with Tahini Sauce
This quick and easy plant-based meal is perfect for anyone who loves Middle Eastern flavors!
Servings
:
18
falafel balls
Ingredients
Falafel
1 540

ml

19oz can chickpeas

1/4

cup

flour - can use chickpea flour too

2

teaspoons

baking powder

4

cloves

garlic

diced

1/3

cup

chopped onion

2

teaspoons

cumin

1/2

teaspoons

salt + more to taste

1

cup

each fresh cilantro and parsley

trimmed, washed, and dried

Pinch of ground coriander

Oil for frying
Tahini Sauce
1/2

cup

tahini

1

clove

garlic

diced

2

teaspoons

lemon juice

Water to thin
Instructions
In a food processor or high speed blender, process the cilantro and parsley until they're in small pieces. Add the chickpeas and the other ingredients and process until blended and somewhat smooth (I like some small chunks in my batter for texture). You'll probably have to stop the blender multiple times to scrape down the sides. This batter should be the texture of cookie dough.

Place the falafel batter into the fridge for at least an hour.

Meanwhile, make the tahini sauce. Combine the sauce ingredients, adding water to thin. While it stands it may thicken, simply add more water to thin again.

Remove the falafel from the fridge and roll into equal-sized balls (there should be around 18).

In a heavy frying pan, heat oil until it shimmers. Add the falafel balls, and cook, flipping once, until crusty and browned on both sides, Remove from pan and set on paper towel.

Serve hot with tahini sauce and yummy sides: pickled turnip, hummus, salad, avocado, hot sauce, tzatziki, pita, whatever.